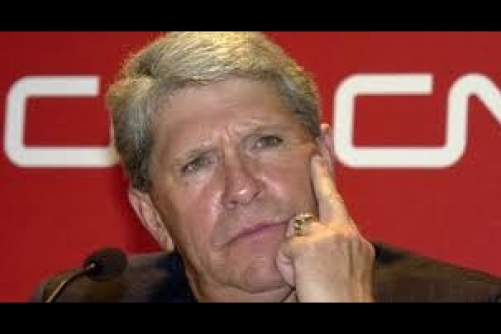 Notorious rail-man HUNTER HARRISON is making news nowadays as the self-proclaimed saviour of the great Canadian Pacific Railway. The man that Wall Street loves may soon become the villain to many Canadians. Few recall that 2012 started with Hunter Harrison's former employer - Harrison was the CEO of Canadian National Railway a few years back – yanking Harrison's juicy pension for various breaches of a non-disclosure commitments. Hunter Harrison started the year by coming out of retirement and announcing to all that he was prepared to get into an alley fight with CN.

HUNTER HARRISON is FYOUTH'S Villain of 2012 because he is more than simply a mean and dangerous man that is hell-bent on cutting labour and pension expenses at Canadian Pacific. Hunter personifies corporate evils. A corporate elite more interested in his individualistic pursuit of power and fame than the business titan to lead a team or an organization to international dominance, Hunter Harrison has built a reputation on squashing workers' rights, disregarding environmental obligations and changing the culture of an historic railway away from its concerns with safety and environmental protections to a myopic focus on profit-maximization.

Hunter Harrison became the main guy at Canadian National when CN bought Illinois Central to become one of the largest railway companies in the world. The Canadian National Railway company was wholly owned by the government of Canada for the first 100 years or so of the company's existence. In 1967, Canadian National employed about 125,000 people in Canada, and the company's operating losses were paid by Canadian taxpayers. The privatization of Canadian National in 1995 was followed by increased foreign ownership and a name change to CN. The end result was that Americans owned over 80% of CN stock within a few years after privatization. When CN purchased Illinois Central, a major American railroad company based out of Chicago, E. Hunter Harrison, the president and CEO of Illinois Central, took over the reins of CN.

In 2003, Hunter Harrison announced that he wanted to fire a bunch of employees to increase shareholder value of CN. Hunter Harrison and his new management team axed the jobs of safety supervisors, environmental compliance officers and other tenured management personnel. CN's stock price rose after the mass firings so Hunter kept announcing more and more layoffs. By 2004, the number of CN employees had declined to 18,500, even though the merged rail company had become one of the largest in the world and was moving more freight and handling more contaminants than ever before.

Under The Hunter, CN abandoned unprofitable rail lines in northern and remote regions of Canada and ignored safety obligations, resulting in numerous deaths and injuries to workers. HUNTER SHRUGGED while CN left a legacy of environmental contamination throughout the Canadian wilderness ranging from contamination of pristine aboriginal lands in Alberta to the abandonment of a PCB facility in North Bay, Ontario. Hunter Harrison demonstrated a villainous disregard for environmental protection and safety obligations while he ran CN.
The Hunter's most dastardly deeds occurred when rail workers went on strike to protest CN's blatant violations of its collective bargaining agreement. The Hunter was not concerned with whether the strike by the workers was legal or not, he simply wanted to destroy the union so he sent scab workers from the United States to fill in for the striking Canadian workers. With the bravado of a railway legend, Hunter held amazing sway over Canadian and U.S. politicians. Hunter believed that the NAFTA provision prohibiting a multinational company from transferring workers from one country to another was another example of big government protecting the little people. Governments sat back and did nothing when Hunter Harrison illegally introduced scab workers into the 2007 legal labor dispute between CN and its employees.
The 2007 strike ended but CN management continued to mistreat its employees. The unionized workers exercised their right to strike again in 2009. This time The Hunter charmed the politicos, and voila Canada's federal government passed back-to-work legislation. Although special legislation forcing unionized employees back to work is extremely rare for a private company in Canada, the Harper government of the time defended its back-to-work legislation as a special gift to CN. The above photo of Hunter Harrison was taken from a press conference where reporters questioned him about The Hunter's approach to worker's rights.
Nice and subtle flick of the finger by The Hunter to the workers and reporters! Well tables are now turned and FYOUTH is pleased to give a finger salute to Hunter Harrison.
Hunter Harrison has the inside dope on CN and he wants to make money from the info. Now Canadian Pacific – an arch-rival of CN for more than 100 years - wants to pay the Hunter big money to find out where all of the bodies are buried. CN probably thought that they could stop The Hunter by slashing his valuable pensions, but this guy is a total sleaze. The Hunter responded with a major stock market play that will dearly enrich his pocketbook at the expense of all those that misjudge the Hunter's character.

HUNTER HARRISON is now running the show at CP Rail and he has not changed one bit. The mainstream media will not tell you that Hunter Harrison plans to destroy the spirit and the pocketbooks of CP workers, but FYOUTH is pleased to declare Hunter Harrison the VILLAIN OF 2012 !

editor@fyouth.com