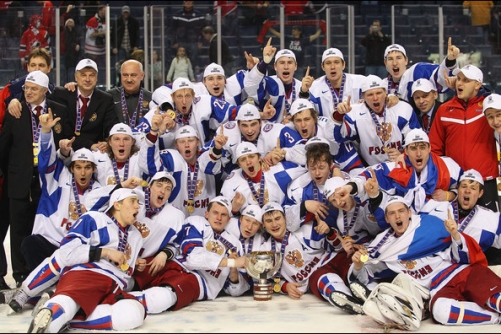 Never before has a squad of teenagers experienced the highs and lows that Russia's junior hockey team has encountered in 2011. In the World Junior U-20 Tournament finale held in January in Buffalo, United States, Team Russia was trailing the powerful Canadian team 3-0 at the end of the second period and rallied for five unanswered goals to win 5-3 in one of the greatest comebacks in hockey history. That Russian team of incredibly talented teenagers celebrated with rare exuberance. Check out the video on YouTube and you will see forward Daniil Sobchenko carrying a TV camera onto the ice and shouting into the camera with unbridled joy as his teammate, Yuri Urychev, and others embraced each other in a splendid singing of the Russian national anthem.

Daniil Sobchenko and Yuri Urychev were among the 44 people that were killed in the horrific plane crash that took place on September 7, 2011. KHL team Yaroslavl Lokomotiv was supposed to play its first game of the season in Minsk that fateful day and although Yuri Urychev was injured, he wanted to be with his teammate and friend Daniil and so he asked to accompany his team. Solemn teammates to the very end.

Returning head coach Valeri Bragin expressed his feelings through an interpreter when asked about whether the Russian team plans to honor the lost players from 2011: "It's very serious and difficult. The 2 players were like my children. They had a great future and it is a very sad tragedy."

On Tuesday, December 20, Team Russia returned to the ice to play a strong team from U.S.A. Only one player from last year's Championship team returns and it is Team Captain Evgeni Kuznetsov, a 2010 first-round pick of the Washington Capitals. This was only the first pre-tournament exhibition game but the Russian Junior Team played like they had nothing more to lose. Russia won 6 – 3 over U.S.A. with shots on goal 41-26 in favor of Russia.