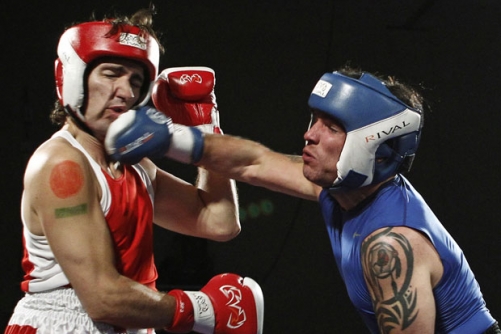 Justin Trudeau the boxer hardly seems to be the prissy young lad portrayed in the Conservatives attack ads. When Justin entered the boxing ring in a fundraiser to save the Katimivak program he knew he was going to get punched hard by the Conservative Senator with the vicious right hook. Justin Trudeau survived the Conservative hits and eventually triumphed in the boxing ring.
Trudeau's efforts to save Katimivak however were ultimately unsuccessful. The youth-volunteer program created over 35 years ago by former Prime Minister Pierre Elliott Trudeau was chopped by the Conservative government last year. Justin Trudeau has not given up the fight though.
Canada used to be the best place in world to live. Escalating poverty among First Nations' people has caused international embarrassment for Canadians. Almost a quarter of First Nations' children live in poverty whereas only one in 10 non-aboriginal Canadian children live in poverty. The country lost its top global ranking primarily as a result of the economic and social woes faced by Canada's aboriginals.
High unemployment, low graduation rate, widespread poverty, poor health conditions and greater incidence of premature death for aboriginal children are all plaguing Native communities across Canada, yet Harper's Conservative government keeps announcing deep and painful cuts to the Aboriginal Affairs' budget. According to the recent report entitled Understanding and Improving Aboriginal Maternal and Child Health in Canada: Regional Sessions about Promising Practices across Canada, aboriginals in comparison to non-aboriginal Canadians "are much more likely to live in poor health and die prematurely" and "have a burden of chronic conditions and of infectious disease."

Justin Trudeau has revolutionary plans to improve the plight of native communities across Canada. Although Trudeau is incredibly smart and charismatic, his policies are being drowned out by the incumbent government's attack ads that present Justin Trudeau as simple-minded and inexperienced. Harper is fixated with the specter of Trudeau winning the election so he opts to spend hundreds of millions of dollars in ads personally attacking Justin Trudeau. And Trudeau is barely fighting back and refuses to deliver personal attacks against Harper. In this political rope-a-dope Trudeau appears poised to take punches to his character now in the hope that the Liberals prevail in the federal election.