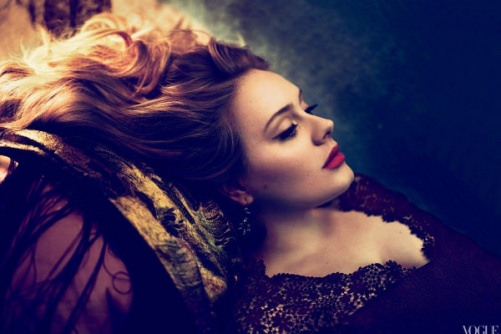 Adele won a bunch of Grammy awards last week, but most importantly she has endeared herself to a new legion of fans all over the world with her beautiful voice as well as with her courage and simple style. Adele's album, 21, is the fastest selling album of the last eight years and she has received accolades aplenty for her incredible voice. Adele's recent vocal surgery essentially took her out of the spotlight and it created the basis for a huge comeback as many fans were worried that she would not be the same singer after the surgery. Adele's appearance at the Grammy Awards came moments after a tribute to Whitney Houston who died last week. The reign of one soul superstar comes to an end while the reign of a new one seems to be just beginning.

Adele Laurie Blue Adkins was born in Tottenham, London, England, UK, to a single teenage mother on 5 May 1988. She began singing at age four and asserts that she became obsessed with voices. Adele has cited the Spice Girls as a major influence in regard to her love and passion for music, stating that "they made me what I am today. Adele was offered a recording contract from XL Recordings after a friend had posted her work on MySpace back in 2006. Her debut album 19, was released in 2008 which was certified four times platinum in the UK. She came to the forefront in the US after her performance on Saturday Night Live in 2008. Adele released her second album, 21, in early 2011. 21 has been certified 14 times platinum in the UK; in the US the album held the top position longer than any other album since 1993.

Meanwhile earlier this year, Karl Lagerfeld, the fashion guru and head designer for the fashion house Chanel, was quoted as saying that Adele was 'a little too fat, but she has a beautiful face and a divine voice.'

Following the comments, Adele came back fighting, and insisted she's never aspired to look like the type of women that Lagerfeld sends down his catwalks. The 23-year-old singer told People magazine: 'I've never wanted to look like models on the cover of magazines. I represent the majority of women and I'm very proud of that.'

Adele also insisted she is not obsessed with her fuller figure or trying to lose weight. She said last year: 'I enjoy being me; I always have done. I've seen people where it rules their lives, you know, who want to be thinner or have bigger boobs, and how it wears them down. And I just don't want that in my life. It's just never been an issue – at least, I've never hung out with the sort of horrible people who make it an issue. 'I have insecurities of course, but I don't hang out with anyone who points them out to me.' Adele also made a statement at her appearance on Anderson Cooper's 60 Minutes telling the news veteran that she does not "want to be some skinny mini with my tits out."

Adele has become the anti-thesis of the normative expectations that continue to bombard women and their position in society. Fashion, Hollywood, Music and Social Media continue to perpetuate imagery consisting of size 0 super models and bony body frameworks that young women continue to watch on a daily basis; making it imperative for role-models like Adele to continue to lead as an example of what women ought to be- strong and unique. Adele continues to be an inspiration to women of all ages and sizes across the world embarking on issues of objectification of women, teaching young girls and women to embrace beauty; whatever shape, color or size it may come in.