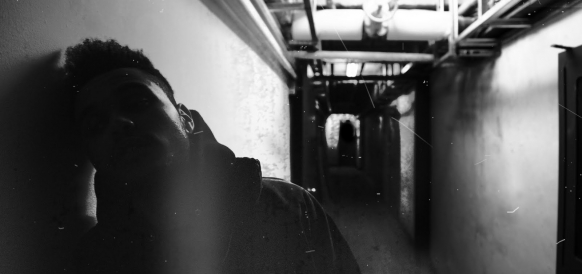 The mysterious R &B act the Weekend, also known as a 20-year-old Torontonian Abel Tesfaye continues to send chills down his listener's spine with his soulful and hypnotic voice.
After self-releasing the free online album House of Balloons and a rather well-timed tweet by Drake sent the Weeknd soaring into the pop-cultural stratosphere. He found himself on the coveted Polaris Prize shortlist, a first for a free download I might add, received endless raves from Pitchfork to Rolling Stone and his single High For This is sound-tracking HBO's ad campaign for Entourage. Wow much?
Now that songs from the Weeknd's album are in wide circulation and can be heard anywhere from YouTube to local radio stations one can't help but ask…what is it about The Weeknd that's got the masses tapped into his sublime voice. The Weeknd, as I would like to think, has presented himself as an alternative to the jargon that we continuously are bombarded with. Of course his songs reflect on relationships, sex and fame but perhaps his method of execution can allow one to escape from the world of lyrics that seem to go on and on about gold chains, violence and womanizing ideals. Or perhaps not…
"I'm glad I finally found out about this guy...all of his music is dope. Hope when he makes it big, he doesn't let the industry change his style of music to fit their profit needs" reads a comment made on YouTube video of Thursday, the third track, and my favorite, off of self-released his mix-tape Thursday.
Pitchfork reported on September 15th that "Florence and the Machine have recruited Toronto-bred R&B act the Weeknd to remix their new single "Shake It Out". According to Florence's website, the Weeknd's remix will be released on iTunes on October 2." Italian DJ Benny Benassi has also remixed the single.
"Shake It Out" comes from the new album Ceremonials, which drops on October 31 in the UK via Island (U.S. release info still to come).
A Weeknd-approved short film for the track "The Knowing" is due to arrive soon. This news comes via a handful of hints dropped by director Mikael Colombu on his Facebook page. Colombu is a French filmmaker who previously directed Cee-Lo Green's "Bodies" clip.
There's no word as to when the new Weeknd video will drop, but on Tuesday (September 20), Colombu promised, "soon!"
As I still configure my stance on The Weeknd I ask you…what's your take on The Weeknd?