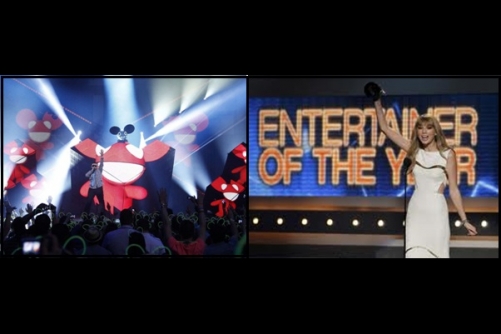 Jeff French aka Sights and Sounds DJ Tall Trees

Canada's 2012 Juno awards and the Academy of Country Music awards took place on the same night. Both award shows and the award winners were the focus of heavy media coverage in their respective countries. The award shows also presented an interesting juxtaposition: the Juno awards seemed to suggest that Canadians relished urban music with a dance-centric vibe while in the United States the wholesome Taylor Swift continued to win over dudes with her charming country tunes.

Is Canada truly home to the urban beat? Does country music really define the music scene on Main Street USA? Does the contrast in media spotlights accurately reflect the music tastes of young people in these two nations? Are music tastes heavily localized? Do the youth of one city or county or area love one music genre more than any other?

I have worked for years in the music industry and have been a DJ at events across North America. Soon after I first started spinning, I learned that peoples' musical tastes were heavily influenced by where they lived. Music may bring people together but music undoubtedly has the power to divide. I learned to respect the power of music and avoid turns or flows that divide dancers and listeners.

File-sharing and the explosion of new artists posting music online have blurred many regional differences. Putting aside its legal complications, file-sharing opened up everyone's mind - and more importantly - their ears to new music. Over the last several years, I have had way more variety in the song requests at my gigs. People are much more open to a Taylor Swift song following a Drake track or a Deadmau5 song mashed up with the Beatles. When I first started, these could have been party-killing moves. Now, people barely blink with they hear different music genres back-to-back. Is it musical ignorance? Not in my opinion. It is an openness to hear new rifts and trendy tunes without the limitations of labels. The vast amount of music that is readily accessible online allows every person to experiment and test the boundaries of their individual music preferences.

While the contrast of Canada's Juno awards with the US Country awards suggests that there still may be strong regional differences in musical tastes, the reality is that music is becoming increasingly global and that musical tastes are more likely to vary from person to person. These trends now allow DJs to be more creative in mixing and song selection, which in turn creates a better party. And when it comes down to it, a better party is what we all really want.