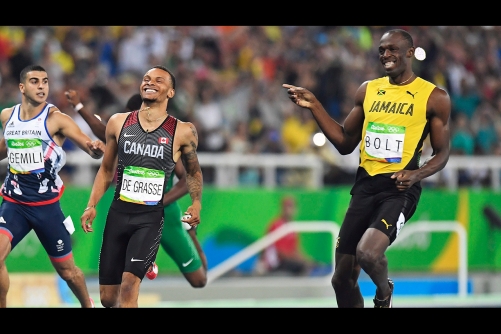 In 2016 the Olympics featured incredible athletic feats and inspirational stories. Long time icons like Usain Bolt and Michael Phelps demonstrated superhuman status. Mass media has chronicled the great haul of gold medals by Bolt and Phelps and the rewriting of the record books for their respective sports.
Potential of greatness was shown by several upcoming star athletes. New but notable names circulate through the crowds after outstanding performances. The performances of some exceptional young athletes make's one believe that we are witnessing the beginnings of soon-to-be legends.
Andrew De Grasse gave Usain Bolt a run for his money in the 100m dash. The 21-year-old Canadian athlete won a bronze medal in the event with an outstanding time of 9.91, and brought home 3 medals from the Rio Olympics. Andrew enjoyed his breakout season in 2015 where, in the Pan Am games, he won two gold medals. In December 2015, he moved to Arizona to train professionally. Since then Andrew has broken the Canadian 200m record and become the first Canadian since 1999 to run 100m under 10 seconds.
16 year old Penny Oleksiak made waves at the Rio Olympics. Most medals for a Canadian swimmer in any one Olympics ever. First Canadian ever to win a women's medal in 100m free style. Penny is only 16, but won gold and silver in individual Olympic swim events.
The effervescent Joseph Schooling took everyone by surprise this year. The 21-year-old athlete from Singapore set the new Olympic record of 50.39 sec for 100m butterfly and won Singapore's first ever gold medal in the Olympics. This athlete grew up idolizing Michael Phelps and in 2008 he met Phelps when the Olympic team visited Singapore. Joseph was inspired to move to the United States for extensive training at the age of 14. Eight years later Joseph Schooling successfully won a gold medal right away from his idol, the legendary Phelps.
Another swimmer making headlines is so remarkable that her only rival is herself. Katie Ledecky currently holds the world records in the 400m, 800m, and 1500m freestyles. This 19-year-old American swimmer made her Olympic debut in the 2012 Olympic games at the age of 15 where she won gold in the women's 800m freestyle event. At the Rio Olympics, Katie won 5 medals, including 4 golds, and she dominated the distance events. Katie's goal this year was to beat her previous record times; she successfully set a new world record in the 800m freestyle. Katie Ledecky is the first swimmer to win the 200m, 400m, 800m and 1500m freestyle titles at a single world championship event. This incredible feat is now known as the "Ledecky Slam".
Simone Biles set the bar high in gymnastics this year. The 19-year-old American gymnast also won five medals, including 4 gold medals. Simone takes the title for most gold medals won by an American female gymnast in a single Olympics. She even has a move named after her and is touted as the Michael Phelps of gymnastics. Her response? "I am not the next Michael Phelps or Usain Bolt. I'm the first Simone Biles".
Kudos to the athletic performances this year by exceptional youth. They have not only performed seemingly impossible feats and set new standards, but these athletes inspire and empower youth all over the world. These Olympians have shown us that age is irrelevant in your success and that nothing will get you further than determination. We applaud their success and look forward to seeing what the next Olympics will bring.
AHL Latest Videos
OHL Watch Live Games
WHL Watch Live Games