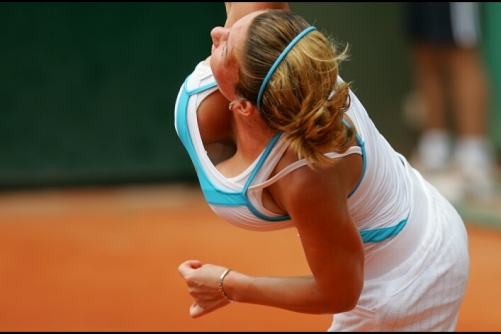 Simona Halep is currently among the top 5 women's tennis players in the world. Although Simona is an incredible tennis player from Romania, Simona became an international sensation a few years ago due to her body. Simona caught the eye of many male tennis afficionados due to her ample cleavage. Photos of a voluptuous 16-year old winning the Junior Women's championship on the famous tennis courts at Roland Garros in France roused the attention of male fans.
Sports marketing agencies around the world flocked to Simona Halep and promised the teenage phenom sure fame and fortune. She could have easily marketed her phenomenal assets to become this generation's Anna Kournikova – a talented woman's tennis player with sex appeal that would be able to enjoy Playboy invites, photo spreads, and a multimillion dollar lifestyle.
Simona shocked her drooling male fans when she announced a year later that she intended to obtain a breast reduction operation. In 2009, 17th year old Simona Halep underwent surgery to reduce her cup size from DD to C while explaining: "My large breasts make me uncomfortable when I play. It's the weight that troubles me and large breasts affect my ability to react quickly."

Men around the world may have wept when Simona Halep had breast reduction surgery, but her game clearly improved once she had smaller breasts. Immediately following her 2009 surgery, Simona Halep won a $25,000 tournament in Maribor. No truth to the rumour that only 3 men were in attendance at the Final when Simona won.

Although Halep struggled in 2010 to break the top-100 as a C-cup, Simona enjoyed a break out at the 2011 Australian Open where Halep qualified for the first time in her career for the third round of a tennis Grand Slam on the senior womens tour. Fame and fortune took a while to arrive for Simona so there were a lot of people that doubted whether she had made the right call when she reduced her breast size. Halep's total prize winnings to the end of the 2011 season were less than $440,000 or barely enough to support her travel and training schedule the past few years.
For many years Simona Halep did not have enough money to keep a full time coach. Yet she continued to persevere and her tennis game kept on getting better and better. In 2009 Simona decided, much to the chagrin of many adolescent males, to forsake unearned riches because she was "uncomfortable" playing tennis with huge breasts. Now Simona can hold her head high as she ascends to the top of the women's tennis world her way.

Way to go Simona Halep ! We promise to support you forever for your brave decision.

AHL Latest Videos
OHL Watch Live Games
WHL Watch Live Games