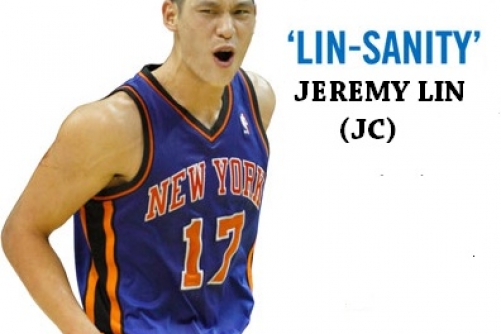 This could be the greatest news for the New York Knicks and for the National Basketball Association in a lockout mired season. Never mind the big trade and contracts signed by forwards Carmelo Anthony, Amare Stoudemire and centre Tyson Chandler. The smallish 6' 3" Lin of Chinese and Taiwanese descent has become the leader of a team looking for direction.

The Big Apple's been in a frenzy for about a week, excited about the Knick's five game winning streak and their new point guard. In a city of $15 Million, $20 Million and $25 Million yearly salaries, Lin comes in at a bargain basement price.

Los Angeles Lakers Hall of Famer Magic Johnson said the excitement caused by Lin around New York's Madison Square Garden has not been seen in a long time. Laker's superstar Kobe Bryant called Lin's rise to stardom a great story and a testament to perseverance and hard work. Lin outscored Bryant 38-34 Friday night at MSG in front of fever pitched fans in the Knicks 92-85 triumph. Actors Ben Stiller, Dwayne "The Rock" Johnson, ex-Knick players, several New York Giants Super Bowl Champs and the regular courtside movie stars were all in attendance. Lakers usually man handle the Knicks and the stars are known to applaud Kobe, but not lately.

Several Knicks players have been hobbled lately, point guard Baron Davis and Anthony just to name a few. The door swung open, so Coach Mike D'Antoni had to go deep into his bench to find Lin. In five games, Lin has scored 135 points filling a void due to injuries. The second year player has started only a handful of games in his NBA career. Coach D'Antoni says, Lin has been running the team and elevating the play of all his teammates. There's been unbelievable chemistry on the team and Lin's a very intelligent player. Lin graduated from Harvard University with a 3.1 grade point average in economics, but signed as an undrafted free agent with the Golden State Warriors in 2010 for a meager $500,000 per year.

The toughest game so far for Lin was on Saturday in Minnesota going head to head with Timberwolves rookie of the year candidate Ricky Rubio who was pounding and hounding Lin all night long. Final score was New York 100 and Minnesota 98. Lin scored the winning free throw with seconds on the clock. Jeremy called it a gutsy road win by unselfish team players and he credits the entire coaching staff for his success. The soft spoken gentleman is living a dream. It was a rough night in Minnesota. Lin only scored 20 points in a hostile environment with fans chanting "over rated".

Up next is a stop in Toronto on Tuesday, February 14 to take on the Raptors which should be another unfriendly crowd for Lin and company to contend with.

The most astonishing fact about Lin is New York's management decision to keep him where other teams like the Warriors and then the Houston Rockets on December 24, 2011 decided to waive him. The turning point was December 27, 2011 when the Knicks claimed Lin off waivers and gave him a third shot at the NBA. However, not so fast, Jeremy gets assigned to the Erie Bay Hawks of the D-League on January 17, 2012. Three days later, Lin puts on a show with a triple double of 28 points, 11 rebounds and 12 assists in Erie's 122-113 win over the Maine Red Claws. The big club recalled Lin on January 23 and he's been shining on the big stage.
The Chinese national basketball team has invited him to join them. Asian broadcasters have recently picked up the feed from all Knick games. The locals are calling it " LIN-SANITY". Jerseys at MSG have been selling out. They read all we do is Lin Lin Lin. Should be Win Win Win.


AHL Latest Videos
OHL Watch Live Games
WHL Watch Live Games