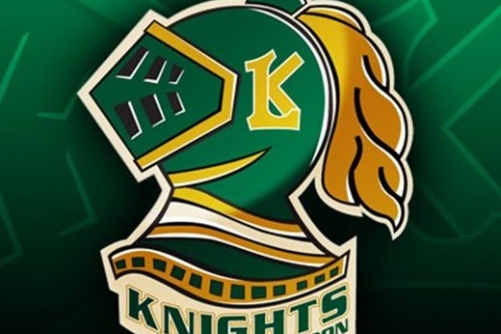 The rich tradition of the London Knights continues as captain Jarred Tinordi has his team atop the Ontario Hockey League standings with six games remaining in the regular season.

The Montreal Canadiens' 2010 first round pick stands at 6'7" 218 pounds and looks like a young Zdeno Chara of the Boston Bruins. Everyone in London is looking up to him and the Knights are winning games at a torrid pace. In fact, Jarred's father Mark Tinordi played in the NHL and was the captain of the Minnesota North Stars and Dallas Stars in the early to mid 1990s.

This edition is highly rated and the Knights believe they can reach the 50 win and 100 point plateau this campaign. They're sitting on 91 points with 45 wins, 16 losses and one shootout loss. The Plymouth Whalers and Niagara Ice Dogs are both tied for second overall with 87 points each. As usual the opposition will be sky high playing a possible Memorial Cup finalist. Unlike a year ago while rebuilding to finish with only 73 points and a first round exit in the OHL playoffs.

Many great leaders have come up through London. Going way back to Hall of Famer and Toronto Maple Leafs' captain Darryl Sittler. More recent John Tavares of the New York Islanders. Rick Nash with the Columbus Blue Jackets. Patrick Kane as well, drafted in 2007 by Chicago Black Hawks and helped them win the 2010 Lord Stanley's mug. The colorful Corey Perry won the 2007 Stanley Cup with the Anaheim Mighty Ducks and previously a Memorial Cup with the Knights in 2005 beating Sidney Crosby's Rimouski team from the QMJHL.

The million dollar question will be, how does Tinordi and company compare? There's definitely a buzz around the team, home and away. The youth and veteran blend on this London team is balanced perfectly. The veterans with NHL connections include defenseman Scott Harrington, drafted by the Pittsburgh Penguins in the 2010 second round. Harrington recently won a bronze medal with the Canadian Juniors in Calgary, Alberta.

A new addition and the best forward for the Knights in February is left winger Austin Watson, a 2010 first rounder by the Nashville Predators. Watson's tied for third in team scoring with 27 points in the month of February.

Centreman Vladislav Namestnikov, a first rounder of the Tampa Bay Lightning in 2011 and tied for third in club scoring with 68 points on 21 goals and 47 assists. Forward Gregory McKegg was selected by the Maple Leafs in 2010 has netted 30 goals and 43 helpers.

Right winger Jared Knight, a Boston Bruins' second round 2010 pick, checks in with 48 points with 23 goals is fifth in team scoring.
Surprisingly, the leading scorer so far is undrafted forward Seth Griffith with 44 goals and 40 assists for 84 points.

The young rookies include forwards Max Domi and Bo Horvat. Highly touted Domi was traded to London and he scored a hattrick in his first OHL game. The son of former NHLer has 20 goals so far this season. His entrance into the league has been somewhat controversial. Coming out of the Don Mills Flyers as a minor midget, Domi was drafted by the Kingston Frontenacs, but refused to show up to training camp. Tie Domi urged his son to go through the NCAA hockey system in the United States. Apparently, Max stuck to his guns and forced Kingston General Manager Doug Gilmour to trade him.

The Rupert twins, Ryan and Matt are also contributing offensively with double digit goals. The Knights have a handful of draft eligible players including a projected top five or six pick Maatta Olli, a big defenseman at 6'1" 202 pounds.

Three draft eligible forwards are Andreas Athanasiou,who has bagged 20 goals so far this season. Athanasiou played in the recent Prospects Game in British Columbia. Chris Tierney and Josh Anderson will also be drafted in June 2012.

Goalie Michael Houser has a stingy 2.58 goals against average, six shoutouts, a record of 43-13 and is draft eligible. Houser's looking to re write the OHL record book as he moves in on 46 wins by a goalie held by Andrew Ingelage of the Windsor Spitfires in 2008-2009.



AHL Latest Videos
OHL Watch Live Games
WHL Watch Live Games