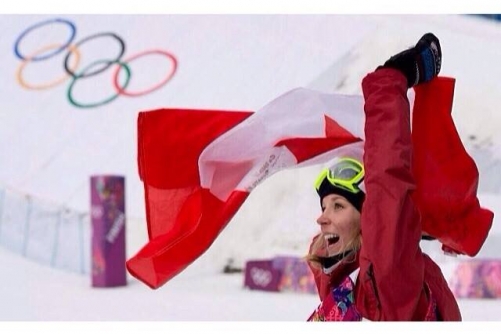 When Dara Howell was a child, all she wanted was to compete at the Olympics. Born on August 23, 1994 Dara Howell learned to ski at the tender age of two. Dara was a competitive figure skater until the age of 15, when she switched to free style skiing after joining the Muskoka Ski Club. At 17, Dara became the youngest female competitor at the 2012 Winter X Games in Aspen, Colorado.
19-year-old Dara Howell won Olympic gold for Canada on February 11 in the Ladies Ski Slopestyle beating out American Devin Logan who claimed silver. 25-year-old Canadian Kim Lamerre from Quebec took bronze.
Dara credits her hometown of Huntsville, Ontario, Canada for her motivation to train and to achieve her dreams to be an Olympian.
"I think when I go home and I get to share this moment with everyone… that's when it's going to hit me how truly amazing Huntsville is. They supported me from the beginning. I don't think they expected a gold medal out of me, and just taking it home is going to mean so much."
Dara's love for her hometown seems reciprocal at the moment. When Dara returns home, she will be welcomed by the people of Huntsville as a hero. This teenager will not simply return as a local hero; Dara will be heralded as the Golden Girl of the Near North. To promising athletes everywhere Dara encourages you to compete and dream big: "If you put your mind to it, you can do it."
By: Micha Salazar 17, Toronto, ON
Published Tuesday, Feb 18. 2014, 2:30 PM ETD
AHL Latest Videos
OHL Watch Live Games
WHL Watch Live Games