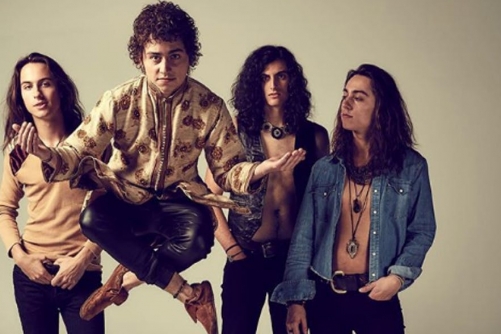 For many rock enthusiasts, the heyday of the genre came and went. We are only left now to reminisce on the great sound of the past. However, there is one band that is sending shockwaves throughout the music world; that band is called Greta Van Fleet. It consists of three brothers from Michigan, Josh Kiszka (singer), Jake Kiszka (guitarist), and Sam Kiszka (bassist/keyboard), as well as their school friend Danny Wagner who plays the drums. They signed with Lava Records in April 2017. Since then, they have released 3 albums. Their first album, Black Smoke Rising, was released a month after they were signed with 4 original songs. They released their second album, From the Fires, in November 2017 with their 4 original songs plus 4 additional songs. In December 2018, Greta Van Fleet was nominated for 4 Grammy Awards: Best New Artist, Best Rock Song for "Black Smoke Rising," Best Rock Performance for "Highway Tune," and Best Rock Album for "From the Fires," the latter of which they won at the 2019 Grammy's.
In October 2018 the band released their first full length album, Anthem of the Peaceful Army. The album received mixed reviews. Rolling Stone and Classic Rock Magazine gave the album 3/5 stars while Pitchfork gave the album a 1.6/10. There is one major reason for these mixed reviews. Greta Van Fleet sounds nearly identical to the legendary classic rock band, Led Zeppelin.
Led Zeppelin was a band that was in existence from 1969 to 1980. Many critics consider Led Zeppelin to be one of the most innovative, successful and influential rock bands of all time. Greta Van Fleet's sound, in particular their lead singer Josh, sounds a lot like lead singer Robert Plant of Led Zeppelin. Critics claim that Greta Van Fleet is copying Led Zeppelin's sound and that they are merely a cover band of them, except they are producing their own songs. Here are the reasons why Greta Van Fleet is actually doing the right thing with their approach of sounding like Led Zeppelin.
1. Because everyone else is old.
Almost all rock Gods are over the age of 50. Even Guns 'n' Roses, one of the newest rock Gods, are all over 50. In general, most great mainstream classic rock bands are past their prime. For myself and my generation of rock enthusiasts, we are unable to see most rock bands perform live in their prime, simply because we were born too late. There are a few outlier rock bands that still perform live like The Rolling Stones which I had the privilege of seeing in concert at Burl's Creek last Saturday and Paul McCartney/Ringo Starr; I saw them perform live in 2015. However, most rock legends do not perform live anymore. The emergence of Greta Van Fleet allows us – even if its miniscule – to have the opportunity to experience a concert that our parents would have gone too. For myself and probably many others, Greta Van Fleet gives us the opportunity to rock out like our parents did in concerts. There are other rock bands active today. However, it seems that many do not have the raw classic rock sound and power that Greta Van Fleet has. I saw Greta Van Fleet perform live at Echo Beach in downtown Toronto this past May and they simply blew me away. I thought I was witnessing a classic rock band perform right before my eyes. I know they had this impact on others as my friends were also blown away.
2. Because rock is dying.
Try going to a party or a club that is playing rock music. You will have trouble finding them. Maybe I'm just disappointed that I have trouble experiencing this great genre with my friends because everyone is engulfed in the mainstream music of today. It will be tough finding a group of friends who can say they passionately listen to rock, day in and day out. Classic rock legends releasing new material, like Paul McCartney's new album Egypt Station, does create some emergence and growth for the rock scene of today's youths. New music from these legends does create some new following for the artist, but for the most part, it is a blessing for the fans that have been around for decades. These rock legends releasing new music does not necessarily gain a following amongst youths however. New bands that are young and, on the rise, like Greta Van Fleet, keep the rock sound alive. Guns 'n' Roses did this in the late 1980s. Rock was on the decline and many people said that they were instrumental (pun intended) for reviving the rock scene in the late 80s. Greta Van Fleet has the potential to do that today. Now, I do not think that following so closely to Led Zeppelin's sound will fully do that, but it is certain that they are exposing the rock sound once again. Greta Van Fleet provides an opportunity to existing rock fans to experience new music that was not made from the 1960s through 1990s. I do believe that in order to gain respect from existing rock fans, they need to expand their sound. They have all of the right tools in order to achieve it. Greta Van Fleet are very young in their career and have many opportunities to expand their repertoire of songs and sounds. Greta releasing new music keeps the rock genre alive and can allow it to grow once again.
3. Because rock can grow.
The biggest factor of Greta Van Fleet is that it can provide a new outlet for youths who do not listen to rock. Since this is a new, upcoming band, they are gaining traction with young people. They are in the light of what young people follow today. They are covered in the news, social media, and radio. It might only take one song or one search of their band for someone to gain an interest. Let's use an example of a young person who is exposed to Greta Van Fleet. They start listening to Greta Van Fleet and like their sound. Someone can ask that person, "Hey, you know the band Led Zeppelin? That is where Greta Van Fleet got a lot of their influences from and they sound a lot like them." The young person starts listening to Led Zeppelin. Then someone else says, "Hey, if you like the hard rock sound of Led Zeppelin, you have to give AC/DC a listen," and so on. This would become a domino effect. A lot of people know classic rock songs like "Stairway to Heaven" or "Back in Black" but don't know where they came from. The young person would probably begin to explore the Led Zeppelin and AC/DC catalogue and their rock horizon would grow from there. This is what happened to me. I first gained an interest in The Beatles by playing The Beatles rock band video game. I started to love them and listen to a bunch of their songs and that opened the door to other rock bands which I listen to today. My rock horizon grew and so can others, if they just give it a listen.
Greta Van Fleet's sound is GOOD for the rock genre. Even though they sound very similar to Led Zeppelin, they have the ability to draw a large following due to the news, social media, and radio. Greta Van Fleet can help grow the rock genre as it has died down over the years.
If you have not listened to Greta Van Fleet, I recommend you listen to "Black Smoke Rising," "Safari Song," "You're the One," and their amazing cover of Sam Cooke's song, "A Change Is Gonna Come."
Joshua, 21 – Toronto, Canada