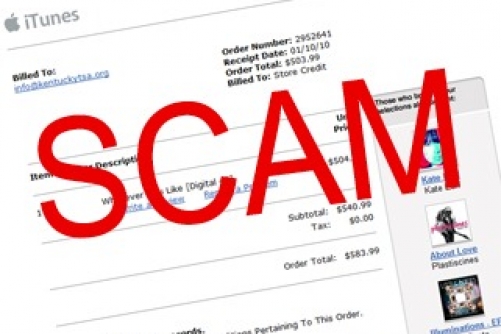 APPLE INC., the world's largest corporation, has a lot of parents and teenagers feeling scammed by in-app purchases made through an iTunes account. The scam typically enables the user to download a game onto their iPod or iPad for free from Apple's App Store and then once the software for the game has been downloaded it utilizes in-app purchases of virtual currency, extra levels, or other add-ons and charges the credit card on the iTunes account without the informed consent of the user.

The iTunes in-app scam first came to the surface in the United States in February 2011 when parents became outraged to find that games ostensibly geared towards kids, such as Smurfs' Village or Tap Fish, relied on in-app purchases of in-game virtual currency to do many tasks. Players in Smurfs' Village can buy a wagon of "smurfberries" for $99.99 in the quest to build a Smurf hut while Tap Fish players spend hundreds of "fish bucks" to buy food for exotic fish. Lawyers threatened to take Apple to task for inducing children to spend hundreds of dollars of their parents' money on in-app game purchases because it was very unlikely that parents or children fully understood that a virtual purchases concluded through an application downloaded for free via iTunes could cost users and parents hundreds of dollars.
US government officials including the FTC investigated the situation, but ultimately nothing of any consequence was done to limit the charging of huge amounts of real money to unsuspecting users or parents. The lack of action by governments to curtail such obviously unethical business practices essentially changed the frontier of Internet law. Sleazy developers would be free to use whatever means they wanted to garner extra revenue as long as they fell within the scope of Apple's in-app purchase policies.

Apple Inc. turned the tables and turned in-app purchases into a lucrative business. In March 2012, Apple sent out a memo to developers around the world clarifying that in-app purchases would be allowed even in games targeted to kids, but that Apple's cut would be increased to 30% of the total collected through in-app purchases using iTunes.
Several scrupulous companies, such as Beehive Europe, which has developed a Snoopy Treasure Hunt app, have now inserted an auto-purchase function that seems to charge the credit card on file with iTunes while the user is away from the device. Virtual currency is translated to actual dollars charged against the credit cards of a user or parent without anyone's knowledge or legal consent. I personally received charges of over $700 during a one-week period that included many days when my iPad was not being actively used.
In March 2014, Apple sent out a mass email in a form of a letter to all iTunes account holders. The letter is targeted at those who were charged for unauthorized in-app purchases by minors and states that if some purchases were made without parental consent, then the user can fill out a refund form. In January 2014, Apple reached a settlement with the U.S. Federal Trade Commission promising that the corporation would pay out $32.5 million for refunds. All requests for refunds must be submitted by April 15, 2015.

You may ask…why would Apple allow these unethical business practices to continue and risk damaging their reputation? Although in-app purchases in games marketed to minors is a clear scam, it is also very very profitable. When I complained to iTunes about the improper charges, the Customer Service rep politely agreed to waive the penalty – but on a one-time basis. Some Apple employees are actually being trained to tell consumers and parents to assume responsibility for these iTunes in-app purchases even though Apple is clearly complicit in allowing scrupulous developers to utilize new software to victimize kids and other unsuspecting users who are not aware that real money may be paid on account of applications downloaded for free from the App Store.

Apple Inc. continues to garner millions of dollars of ill-gotten gains by allowing the charging of in-app purchases to credit cards on file with the iTunes Store. Although there is no dispute that in-app purchase schemes are the culpability of unethical developers, the world's largest corporation – Apple Inc. – must be held ultimately responsible since it approves the apps for sale and facilitates the in-app purchase mechanism.

Updated Monday, June 2. 2014, 1:45 PM EDT